Bark
Introducing WE Cork's remarkable cork wall covering, Bark. This cork wall covering is made from eco-friendly cork oak trees located in the Mediterranean. The bark is harvested every nine years and regrows over the 200+ year life of the tree. These cork panels are a stunning decor choice as well as offering health benefits and sustainability.Our Bark wall covering sheets offer a simple way to transform any room to a cozy retreat or a warm sanctuary.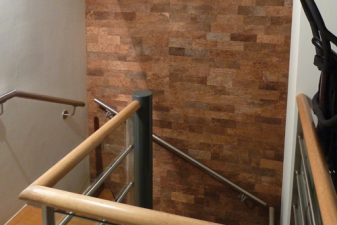 Cork is naturally anti-microbial. It is hypoallergenic and can help reduce allergens in a room.  Cork naturally resists and repels mold and mildew. Its cellular nature keeps allergens to a minimum.
Cork is also thermally insulating and sound absorbing. If you have a budding musician in the family or need to reduce noise in any gathering space, restaurant or bar, cork wall covering may be for you.
Dimensions:
36 5/8" x 24 13/16" x 1/4"
(930mm x 630mm x 7mm)
25 sheets per box